Informational materials on the Resource page can be ordered directly from FLEX COAT. Please ask your dealer if they stock Flex Coat Professional Rod Building Supplies.
How to Order the Informational Materials
Download the order form by clicking the image below. Print the order form, complete your order, enclose a check with your order form and send by regular mail. This is not an electronic form and cannot be submitted through the internet. If you are having problems please contact FLEX COAT and state your fax number in the email pop-up box. A faxed version of the form will be sent. Or let us know whether you need an application to be sent by regular mail and include your mailing address.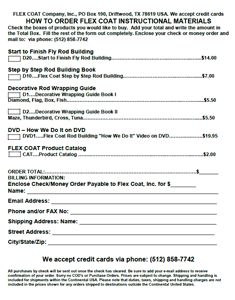 Payment & Confirmation
All purchases by check will be sent out once the check has cleared. Sorry no COD's or Purchase Orders. Prices are subject to change. WE TAKE CREDIT CARDS OVER THE PHONE.
Shipping & Handling
Shipping and handling is included for shipments within the Continental USA. Please note that duties, taxes, shipping and handling charges are not included in the prices shown for any orders shipped to destinations outside the Continental United States.